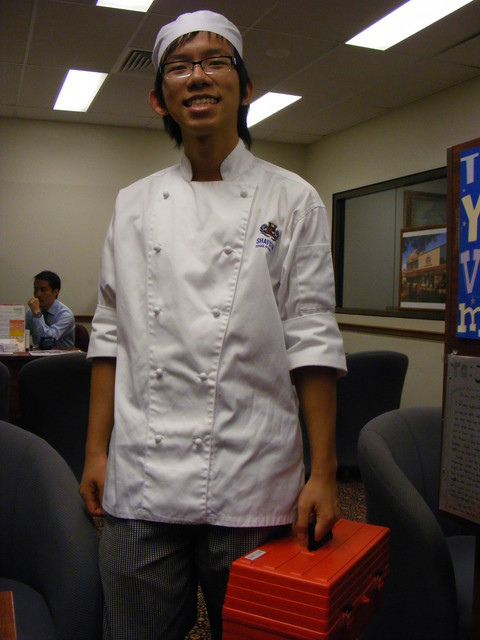 Brian( 以下就是來自印尼的學生BRIAN的文章分享﹐BRIAN是第一位在免費蛋糕券活動中交文章
給JASS的學生﹐他只十六歲喔!精神可嘉!所以JASS特別獎勵了他六張蛋糕券!掌
聲鼓勵!!!
)


Back in November 2009, during the last moments of my high school, I had always wandering, what would it be like to be in Australia , in Shafston, particularly. I've seen the pictures, but never had actually been there. However, even though I've never been to Australia , I've known a person in Shafston. Not me actually, my mom. She met Jass back during Jass business trip in Jakarta . When I have any question about the school, my mom would always said, 'you should ask Jass. She's very nice!'
February 2010 was the beginning of my new life. I was so excited. Everything is new for me. And, I finally got to see Jass in person. She IS very nice and friendly just as told. To be frank, I personally think that in general, Australians are friendlier than Singaporeans. I've spent the last 4 years in one of the high school in Singapore . I also feel the drastic change from living in a hectic city, to this very leisurely country. It's so much nicer to live here in Australia , however, the transportation here is not as convenient and the living cost here is higher compared to Singapore .
Here in Shafston, I'm currently studying commercial cookery. It's so much fun that I could not describe the excitement in words. School days are the best part of my week. Not to boast, but I found that the theory lessons are easy, while practical lessons are like the epitome of fun and excitement. We made different kind of foods. French, Italian, Asian, you name it. As well as a bit of pastries; biscuits, cakes, puffs, traditional cakes, and some desserts. It has been completely AWESOME! In addition, Shafston also provide us with extra courses to compliment my study in commercial cookery, such as barista course and RSA course. Barista course was great too! I've learnt the basic of making coffee and latte art. RSA course taught us to be responsible in serving alcohol to our customers.
My classmates are really nice and friendly, I'm the youngest in my class, in the whole school also perhaps. Being young also can be a hindrance in socializing sometimes.

My teacher, Chef Jules, is a really good teacher. He knows very well what he teaches and he's very funny. Poor thing that most of the students in my class do not have good English that most of the time they can't get the jokes that he cracks.
I have only 3 school days in a week; Monday to Wednesday. Hence I have the other 4 days free. It was really boring, however it got much better when I got a job. I've been working in Hog's Breath café. Even though I'm only working as kitchen hand, it has given me a great experience by working in such a busy kitchen. All I got to do is make desserts, salads, fries and wash dishes. Fortunately, they have a sophisticated dish washer, so I only have to load the dish washer and put the clean plates back to the designated place.
For the time being, I'm staying in Shafston Mansions. Frankly, it's very expensive here, however, as they say, 'you get what you paid'. They provide us with sports and entertainment facilities. There're swimming pool, tennis court, gym, and even weekly housekeeping.
I'm so grateful that I have the opportunity to be trained in a fully operational commercial facility. It has been a memorable 2 months for me and I'm looking forward to gain more knowledge and skills here in Shafston in the coming future.